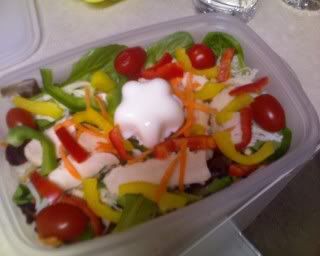 Italian mixed greens; yellow, green and red bell peppers; shredded carrots; grape tomatoes; grilled deli selects chicken; star boiled egg; mozzarella cheese; S&P.
Now onto my snack & breakfast bento:
Big tier has fresh peaches, strawberries and bananas for breakfast, and one of the small boxes has kashi go lean crunch. That's all my breakfast. The other small box has Special K italian tomato and herb crackers (17 crackers = 90 cals!) and french onion laughing cow wedge. Applesauce and cinnamon monkey on the side.
Now all of THAT is what I call diet food.
I dunno if this even qualifies as bento, as it's really just a salad in a box. But I'm posting it because I made the egg look like a star.
And yeah, I totally made my bento the night before. But that was good, because I ended up waking up at like 7:45. Oops.
For lunch: Spicy tuna onigiri, 2 baby smoky sausages, grapes, celery, carrots, and sour cream ranch dip. oh, and peanut butter in the monkey.
For snack: Grapefruit pieces for the morning, baby pickles, turkey, and chipotle white cheddar slices.
Not pictured, boyfriend's bento in the same snack container as mine (only in green) with grapefruit pieces in the bottom, and carrots, celery, and sour cream dip in the top!
I managed to not only make myself a bento today, but a snack bento for me AND boyfriend. Amazing! I bought a rice cooker a couple of weeks ago and it's AMAZING. Once I figured out the proper rice/water ratio and cooking time, I was so excited, because I don't have to slave away in the kitchen to make sushi rice for bento. It made my onigiri making last night very, very simple.
Anyway, I've been trying to go more vegetarian or something. I don't know. Its time to be a little healthier because I put on two pieces of clothing today that were too tight to wear comfortably. EMBARRASSING!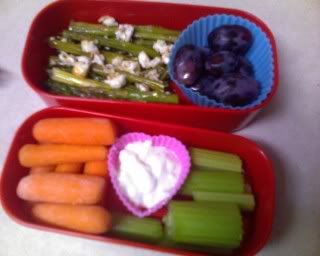 In today's bento: roasted asparagus with feta, grapes, carrots and celery with ranch sour cream dip.
Also a snack bento: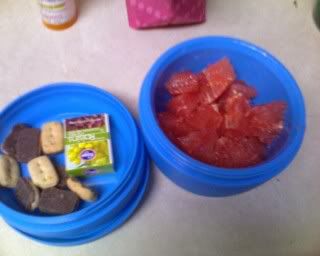 Grapefruit, cut up because its too messy to eat at the office, and some sweets for this afternoon, cookies and raisins.
This is all because I feel like I should be eating every 3 hours or so. All the fitness and diet sites tell me so.
Due to sheer laziness and a little bit of dieting, I haven't been bentoing lately. Just when I think people were starting to check the blog, too. Oh well. I finally got up early enough today to have enough time to make a bento. Only sad part was that I gave all of my cookie cutters to AG so I didn't have any cute cheese shapes today (which is my favorite)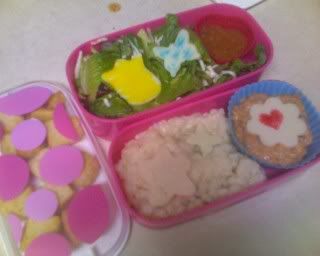 lid: croutons so they don't get soggy
top: salad with mozzarella and bacon, extra cheese remnants underneath. red pepper italian dressing in the heart.
bottom: risotto, tomato and tarragon sauce with white wine in the silicone cup.
A quickie today - I was behind because I had to punch an extra hole in my belt. And kind of sloppy so I'm not just SUPER proud of it or anything, but I'm sure it'll taste fine.
Top: Sushi with crab stick, cream cheese, and carrots. Baby Spinach to fill the holes.
Bottom: Stir fry style veggies and apple.
It seems like I roll sushi about once a week. I haven't been doing it as much at home since I discovered an all you can eat sushi bar just 2 minutes from my work...for $6.95. Ridiculously awesome!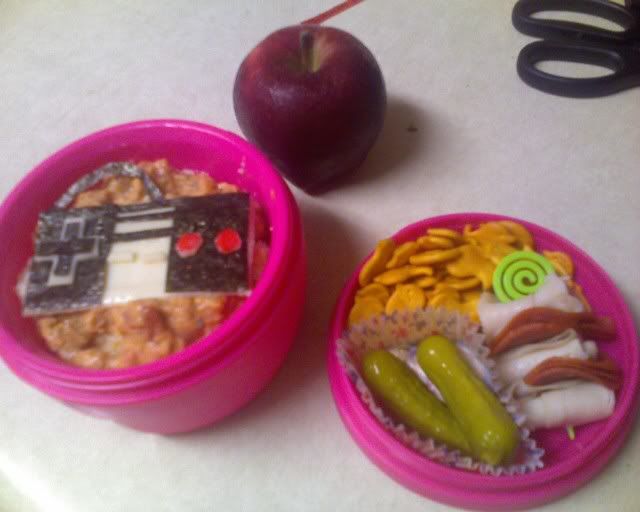 I found this bowl type bento at Dollar Tree - so it's a great small bento or snack bento for a BUCK if there's one near you. It also screws together so it might be watertight enough for soup.
Top: Turkey rolls and pepperoni picks, extra mozzarella cheese, cheese crackers, and pickles added last minute for color (plus I love em)
Bottom: Risotto and a delicious tarragon tomato white wine sauce that I made Mon night, then the controller is made out of mozzarella and nori.
Apple on the side.
I might do another 80's bento this week because I had so many ideas! But today I didn't have a lot of time so I just whipped this one up really quick. What's more 80's than NES?!
top: tuna salad with cayenne pepper sushi, grapes.
bottom: salad, mini eggrolls, and mozzarella butterfly. extra cheese remnants under lettuce.
More tuna today. I'm gonna stink like a fish.
Salad at the bottom, carrots under onigiri filled with tuna salad. Nori faces. Grapes, croutons in the little square container, mozzarella cheese stars, and caesar dressing in the little bottle. Not pictured: Crackers on the side.
I am running really low on EVERYTHING at my house, so onigiri seemed like the only think that I could make. I didn't even use a real box, just tupperware, but I wanted one of the one layer boxes, which I only have two tier. And now I'm rambling.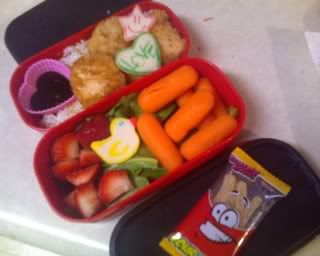 Top: Salad, carrots, strawberries, and a mozzarella ducky
Bottom: Brown rice w/ furikake, chicken katsu, bulldog sauce for dipping in heart. mozzarella star and heart.
Lid: sour fries gummy
And a clementine for a snack, just in case (:
Back to bento, I've made a couple since my last but they were boringish repeats and I decided not to post. ANYWAY, this morning I got up early enough to fry chicken katsu so I can't wait for lunch. It smells delicious.
Well, the instructions on the bag are WRONG. They tell you to heat 2 tbsp of oil on medium HIGH and cook the stickers for 1 min, then ADD 1 c of warm water. FTW? I didn't think this sounded right, oil + water = disaster as far as I can remember, but I was willing to give them the benefit of the doubt. Well, it exploded every where. I had to risk my life to pull the pan off of the burner so it would quit popping hot oil all over my kitchen, and the burner was bright orange, and i just stood there thinking, what IDIOT wrote those instructions?
Anyway, I ended up transferring them to a different pan and steaming them (but it took too long so they may not be done). I'm not sold on pot stickers (or gyoza) yet!
top: spicy salmon sushi, mixed asian veggies
bottom: pork gyoza (pot stickers)
lid: ling ling (the retard who came up with the brilliant instructions) sauce for stickers.
Today's lunch almost blew my face off. I don't know why I thought I could get up early enough to roll sushi and make pot stickers, but I did. Reality as it was, I wasn't out of bed until 7:45 (and I work at 8!). But since I was already late, I decided to do it anyway.